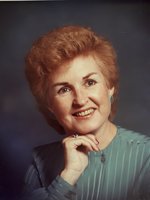 Beverlie Lange
Beverlie Francis Lange, 85, of Oakville, Ontario while in the care of her doctors at the Oakville Memorial Hospital, peacefully left this earth on June 8, 2020.

She will be missed by her younger brother Tom, sister in laws', many nieces and nephews, and especially her three daughters, Robyn (Ross), Shannon, Dawna (Ed) and her two grandchildren Lauren and Braden, along with her church family at Faith Baptist Church.
Beverlie was born into an Irish protestant family of eight children. Her arrival on March 28, 1935 in Stoney Mountain, MB, made her the youngest of four daughters to the late William and Elizabeth McGimpsey. She was married in 1956 and moved to Russell, MB, where their three daughters were born. During her early years, she was a devoted stay at home mother, driving them to all of their lessons and activities. She made sure they learned to skate, swim, play the piano, attend 4H, and be a part of the community. When not with her girls, she volunteered as a member of the Canadian Royal Purple, to plan and participate in local events, to help those in need and support the community. She made life-long friends with several of the ladies in and around the area. After 19 years, the family moved into Winnipeg where she could attend the opera, ballet, and many theatre productions.
Beverlie adored her daughters and enjoyed nothing more than spending time with them. She would laugh as they "horsed around" doing the dishes or dancing to music as they performed their household chores. She gave her daughters' a love for music, and supported each of their own creative interests. She expressed her own creativity through her fashion choices and finding the right accessories for each, and every, outfit. Mom may have taken to her walker sooner if we could have found one that better matched her assorted outfits. Her creativity was also expressed in her home decorating choices. She liked to mix colour and design so that our home was both lovely to look at and a comfortable place to gather with friends.
Beverlie was a kind and gentle soul, with the patience of Job. She had a knack for using well known quips (i.e. as cute as a bug's ear). Life was not always easy for her but she believed in God and his direction for her life. She will be met at the Pearly Gates by her sisters Irene, Muriel and Kathleen; her bothers Lloyd, David and Robert; and many others that are waiting to greet her. By now, her nephew Gib will have gently put
his arm around her shoulder and said "Let me show you around Beverlie". As Vera Lynn used to sing in our home, "We'll meet again. Don't know where, don't know when. But I
know we'll meet again".
The Celebration of Life will take place virtually on Thursday, June 18th at 2:00 p.m. If you wish to view the service, please send an email to Faith Baptist Churchat: office@faithoakville.ca. Please put "Beverlie Lange's Service" in the subject line. The church will forward you a link to view the service at 2:00 p.m. on Thursday. You will not be able to attend without this link to click on.
In lieu of flowers, please give a donation to https://www.samaritanspurse.ca/, as Mom actively supported this charity.