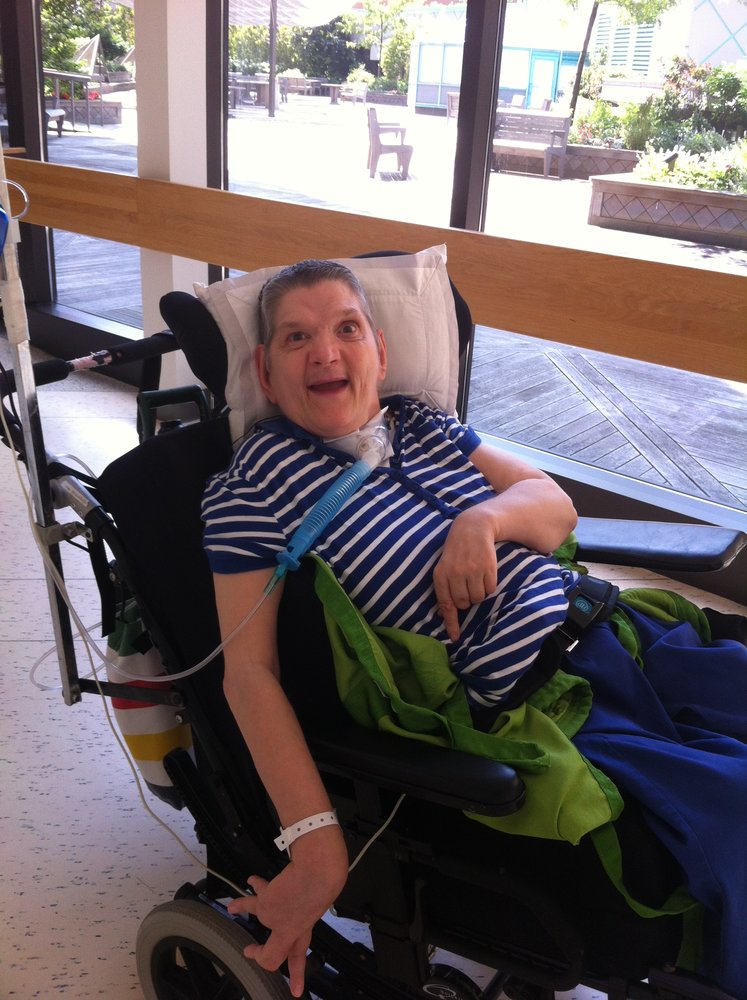 Share Your Memory of
Anne


Obituary of Anne Brenndorfer
Anne Lore Brenndorfer was born on January 23, 1953 in Brampton, Ontario to Herta and Wilhelm Brenndorfer who came to Canada in 1952. Anne passed away peacefully on Wednesday, August 12, 2020 at the age of 67 at Baycrest Hospital in Toronto.
Anne's father, Wilhelm, was born in Romania in 1924 and her mother, Herta, was born in East Prussia in 1928. Anne has five other siblings: Peter (born 1954), Alfred (born 1956), Dora (born 1958), Thomas (born 1965), and Julia (born 1968). While Anne's father passed away in 1993, she is survived by her mother and five siblings.
Anne was born with brain damage and cerebral palsy, and was developmentally delayed. She was given a poor prognosis from birth but her parents took care of her at home until she was 5 years old.
Due to her care requirements, Anne was admitted to Huronia Regional Centre in Orillia in 1958. In the mid 2000's it was decided by the government that institutions for the developmentally disabled would be closed and that all residents of Huronia would be transferred to community-based residences where they could be cared for in a more home-like setting with much more personal individual attention.
In 2006, Anne was placed in a group home located on Mount Albert Road in Sharon and operated by Community Living Newmarket/Aurora District. This home was shared with two gentlemen and one lady who had similar conditions, and Anne blossomed in her new environment with her fellow residents and very caring and fun-loving staff.
Anne resided at the group home until her medical needs increased and she eventually moved to Complex Continuing Care at Baycrest Hospital in Toronto in 2011. Anne's health requirements were well-taken care of with the support of the trained and compassionate staff at Baycrest Hospital. Anne's sisters, Dora and Julia, who live in Toronto, ensured that visiting Anne would always be a priority on a daily basis (until the COVID-19 visitation restrictions stopped that in March 2020). They enjoyed getting to know and love Anne in a way they could not when she lived further away from her family in her younger years.
Anne will always be remembered for her strong spirit, tight hand-grip, fun-loving and mischievous nature, love of music (particularly country and classical), and infectious smile. While she was unable to talk in the conventional sense, she communicated very well with her expressions and gestures and never hesitated to speak her mind in that way. Anne's child-like nature made her easy to love by everyone who took care of her.
Anne had a strong will to live and she always fought for life despite predictions to the contrary, and we believe that she only left us when she was ready to go. Despite her handicaps, Anne touched many lives and we are better people for having known someone who was given so little in life but was joyful for simple things that many people take for granted. We also believe that God is eager to welcome Anne and make her fully healthy and whole, and this passing is only a temporary good-bye until we can walk and talk with Anne in a better place.
Donations in remembrance of Anne can be made to:
Baycrest Foundation
Community Living Newmarket/Aurora District