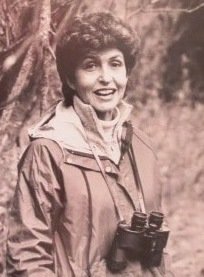 Share Your Memory of
Pauline


Obituary of Pauline Sackin
Pauline Sackin
1933 - 2020
In 2019 Pauline was diagnosed with breast cancer, treated, and that was seemingly that. In March of 2020 it was discovered that her breast cancer had metastasized to her lungs.
Despite her decline she maintained a constant good attitude almost until the end, buoyed by, she once told me, having had a fine life.
After graduating from the University of Toronto in the mid-1950s, she moved to New York City where my Dad was in Residency, married in 1956, and went on to get her Master's in Psychology at New York University. Thereafter she was devoted to being wife and Mom for a while, and after we kids became independent she earned a diploma in gerontology, eventually getting a job at the Bank of Montreal in Toronto as their Life Transition expert.
My Mom's passions - besides her husband and children - were birding, reading, theatre, dabbling in financial investment, art, travel, and last but not least, Bossa Nova and Cuban music. She could play the piano well, and could speak French and German.
Pauline - my Mom - helped to instill many good qualities in me during my formative years. Two that stand out are a fascination with nature, and a love of walking. Once my Mom showed me how much living activity there was in just a small patch of groundcover in our backyard. Different kinds of bugs, different things growing. As for walking, for years she and I would take regular "bun walks" around our neighbourhood. She called them that because there were many wild rabbits around, so the theme of our walks became looking for bunnies (buns for short), seeing how many we could find on any given day.
Pauline's ashes will be placed in a crypt at the Mount Pleasant Cemetery mausoleum. There she will join my Dad and my sister Julia. There will be no funeral.
A special thank-you to the staff at Bridgepoint Palliative Care for their exemplary care.