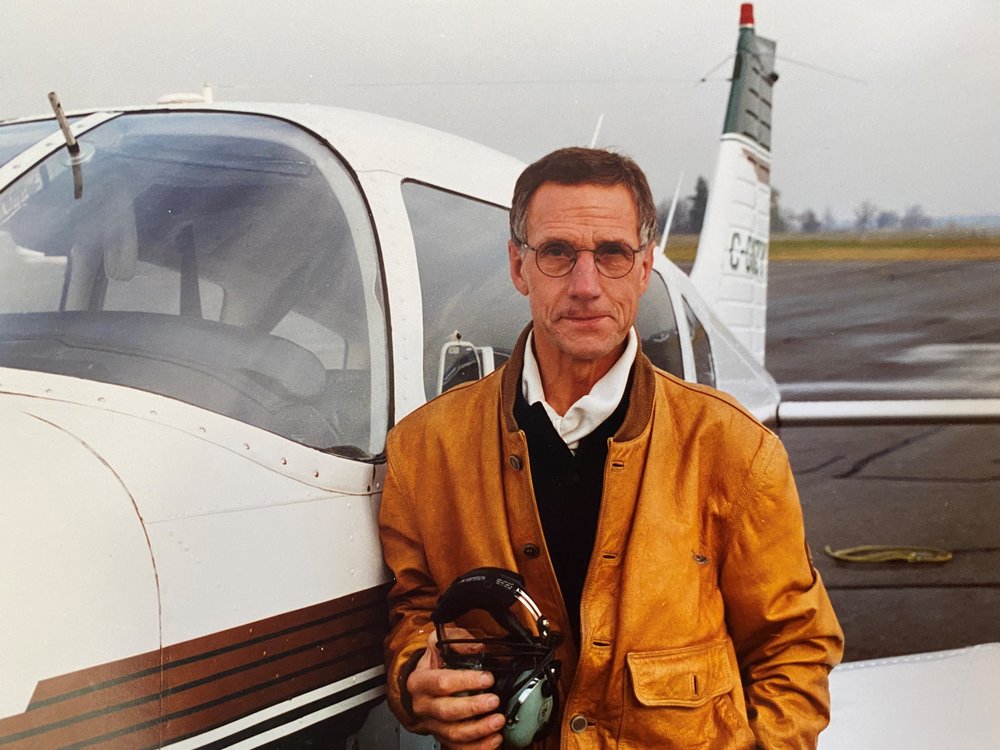 Share Your Memory of
Luciano


Obituary of Luciano Ghislanzoni
Luciano Ghislanzoni passed away on Saturday March 20, 2021 and he would want you to know he is gone, but he'd prefer if you didn't make too big a fuss over it. He was happy with his life and grateful for how he got to live it, including for the care he received from his wife, nurse and doctors.
Luciano was born in Northern Italy just months before the start of WW II and spent his life building select but life-long relationships, working hard, learning new skills and exploring new ideas. Growing up on Lake Como with his kind and gentle mother, Maria, his wonderful character of a father, Carlo and siblings Carla, Massimo and Roberto, Luciano developed a deep love for the mountains and the lake which drew him back to Italy year after year. Family lore has it that, after completing his military service as an alpine paratrooper, he flipped a coin at age 29 to decide where to emigrate and, after a near-miss when the plane that was to take him to Canada crashed, he settled in Toronto. He immediately set about establishing a new life and, while visiting home a year later, he met his wife Lilliana who joined him in Toronto in 1970.
Luc and Lilliana spent over a decade working hard during the week and being fancy-free on the weekends – photos from these times show them in cottage country in a variety of vintage convertibles, dressed like movie-stars, seeking adventure or on the sailboat that Luciano named after his wife.
After their daughter Melissa was born, their adventures continued and they ran their own successful business. Though Luciano worked long hours, he was always present – he was always there to read bedtime stories, for bike rides through the Humber River and for lox on a bagel listening to classical music. When Melissa was away at school, Luciano used to wake up at dawn and drive hours, just to take her out for breakfast – often lamenting that diners in university towns didn't open early enough for those who weren't sleeping one off!
Luciano thrived outdoors. Both a pilot and an expert sailor, Luciano relished his times sailing on Lake Como, Lake Ontario and Huron and flying with friends out of Brampton Flying Club. Friends and family who had the pleasure of boating with Luciano can attest to the fact that there was never a bad day on the water with him at the helm, even in the face of challenging weather.
After retiring quite early in life, Luciano was able to enjoy the best of both worlds - winters in Toronto and summers in Lake Como with Lilliana and their Italian family and many friends. His hiking pace could exhaust even the most robust athlete and he rallied his friends to join him on many adventures in the mountains.
When his granddaughter was born, Luciano quickly had to stop teasing his friends with grandkids for becoming silly sops around them. He took to the role of sweet, funny nonno immediately and his family is thankful that he had 6+ years with her and that she will remember him well.
Luciano committed to living an honest and elegant life. He devoured classic literature, insisting on reading texts in their original Italian, French or German where possible. He closely studied history's greatest writers and admired their courage to bring about change. Luciano could often be seen, pencil in hand, underlining important passages and contemplating the insights he'd uncovered.
It's impossible to have known Luciano without wanting to be a bit more like him. His family and friends will always hold him close in their hearts and though they are heartbroken, they are grateful to know he's found a gentle wind to sail home on.
A celebration of life will take place when we are able to gather in person. Luciano loathed funereal flowers. As an expression of sympathy, he asked instead that donations be made to any of: The Dorothy Ley Hospice, the Canadian Cancer Society or the Hospital for Sick Kids.