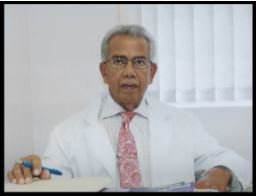 Obituary of Ben Makhan
Dr. Ben Makhan passed away on Saturday, July 10 th , 2021 after a long battle with cancer. Pre-deceased by his late wife Zeta Makhan, his son Ben (Benny) Makhan and siblings Ruth, Pat, Henri and Mickey, he is survived by four daughters that include Kamla Makhan (Gary Clewley), Dr. Sharmila Makhan (David Vousden) and grand-daughters Ariana Zeppieri-Makhan (Anderson Todd), Elysse Vousden-
Makhan and Madeleine Vousden-Makhan; brothers Reynold (Leela), Chris, Winston (Donna) and Fr. Michael Makhan; sisters Marie Makhan (Mike) and Molly James (Cliff ) and many nieces and nephews. Born in Trinidad, Ben attended St. Mary Catholic College where he was a scholarship student, cricket captain and avid sportsman. His love of academics, reading and sports continued throughout his life.
He attended Dalhousie University in Halifax, Nova Scotia where he graduated from medical school in 1963. With a special interest in Emergency Room medicine, Surgery, Obstetrics and Family Practice, he worked as an ER Physician in Trinidad & Tobago for one year then returned to Canada where he joined the Emergency and Family Medicine staff at Queensway General Hospital. There he practiced and held the position of Chief of Family Medicine (1974- 1984), president of Medical Staff in 1986, and member of the Board of Governors. While practicing ER medicine, he also maintained a Family Medicine practice on Brown's Line, Toronto until 2012 when he retired on account of his cancer.
Ben loved practicing medicine and cherished all his patients, colleagues, fellow staff and peers as they brought much happiness to his life. Unfortunately, Ben's personal life was not as successful as his professional life and in this obituary, he wanted to extend his sincere apology to his late wife and son, and surviving children, grand-children and siblings for all the neglect and hurt they suffered on account of his actions
and choices. In Ben's later years he resided at Viva Retirement Community in Mississauga. He truly enjoyed his time there and appreciated the company and friendship of his fellow community members. Ben also very much appreciated the wonderful care he received from the great staff and management. Ben was thankful for the blessing of all of his doctors and dentists and their staff, nurses and all at the Queensway Site Oncology clinic for the amazing care and treatment he received. The family would like to thank the First Responders, ER doctors, nurses and staff and Credit Valley Hospital for the compassionate care Ben received in his final moments of life, Dr. Winston Makhan for his helpful palliative care advice, Meadowvale funeral home/cemetery and Graeme at Cremation Care Centre on Mimico Ave for exceptional service provided during a very difficult time.
Ben was privately cremated earlier this week. A mass/service will be held in his honour on Monday, August 23 rd at 11:00 a.m., at St. Catherine of Sienna Catholic Church, 2340 Hurontario St, Mississauga, ON L5B 1N1, Tel: (905) 272-1454. Website: www.stcatherine.ca..
Seating capacity may still be limited due to Covid-19 restrictions so please check their website or call for seating capacity updates. In lieu of flowers, donations to
CAMH would be greatly appreciated. (https://www.camh.ca/en/get-involved/ways-to-donate).