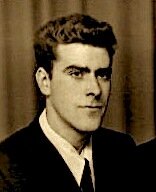 Share Your Memory of
Henry Joseph


Obituary of Henry Joseph Devine
Henry Joseph (Harry) Devine was born to Henry Joseph Devine and Mary Augustine Muldoon on September 11th, 1930 at 9:30a.m. at 3 Alice Street, in the Oatlands neighbourhood of Glasgow, Scotland. Harry attended St. Bonaventure's School and was an altar boy at St. Francis Church.
As a teenager, Harry was a telegram delivery boy in Glasgow, with the GPO.
In 1949 Harry joined the Highland Light Infantry, fulfilling his National Service Requirement in Aldershot and Tel-el-Kebir, Egypt over the course of almost two years.
In July of 1956 Harry set sail aboard the "S.S. United States" for the New World. Upon disembarking at NYC and after a whirlwind tour of Manhattan, he jumped on a train and headed up to Toronto.
In 1957 Harry joined what would become Canada Post Corporation for a 38-year long career there.
June of 1961 saw Harry returning to Glasgow where he married Kathleen Milroy, with whom he celebrated their 60th wedding anniversary in June of this year. In August of 1962 their son Stephen was born.
In the summer of 1978 the Devines moved to Glenavon Road in the Parkdale neighbourhood, and for 43 years Harry was a friend and neighbour to many on the dead-end street.
Kathleen and Harry enjoyed many cruises together with their favourite line, Holland America.
Harry was a big fan of music from the Swing Era and he also enjoyed Cool Jazz.
He took care of himself physically throughout his life, being a member of Vic Tanny's, the old Central 'Y' on College Street, taking judo classes, and making purchases in health food stores. Up until the first lockdown of the COVID pandemic, Harry attended a weekly Tai Chi class!
Harry also loved to read, history especially, and he was arguably an autodidact: he attended many night school classes over the years.
Harry was a devoted and loving son, husband, father and friend. He will be forever loved and missed by his wife Kathleen and his son Stephen (& Constantine).
Earlier in 2021 Harry was diagnosed with squamous cell carcinoma. He received twenty radiation treatments at the Princess Margaret Cancer Centre and he spent the last six days of his life at the Dorothy Ley Hospice, dying there on Wednesday November 10th, 2021 at about 6:50p.m.. In both places he was extraordinarily well taken care of by doctors, nurses, radiation technicians, registered nurse practitioners, and personal support workers. Kathleen and Stephen would strongly suggest that in lieu of flowers or other gestures, that you consider donating in his memory to Princess Margaret or Dorothy Ley so that others in need may have access to such treatment.
Thank you!
Funeral Mass
10:00 am - 11:00 am
Tuesday, November 30, 2021
Church of the Holy Family
1372 King Street W
Toronto, Ontario, Canada
416-532-2879

Get Directions