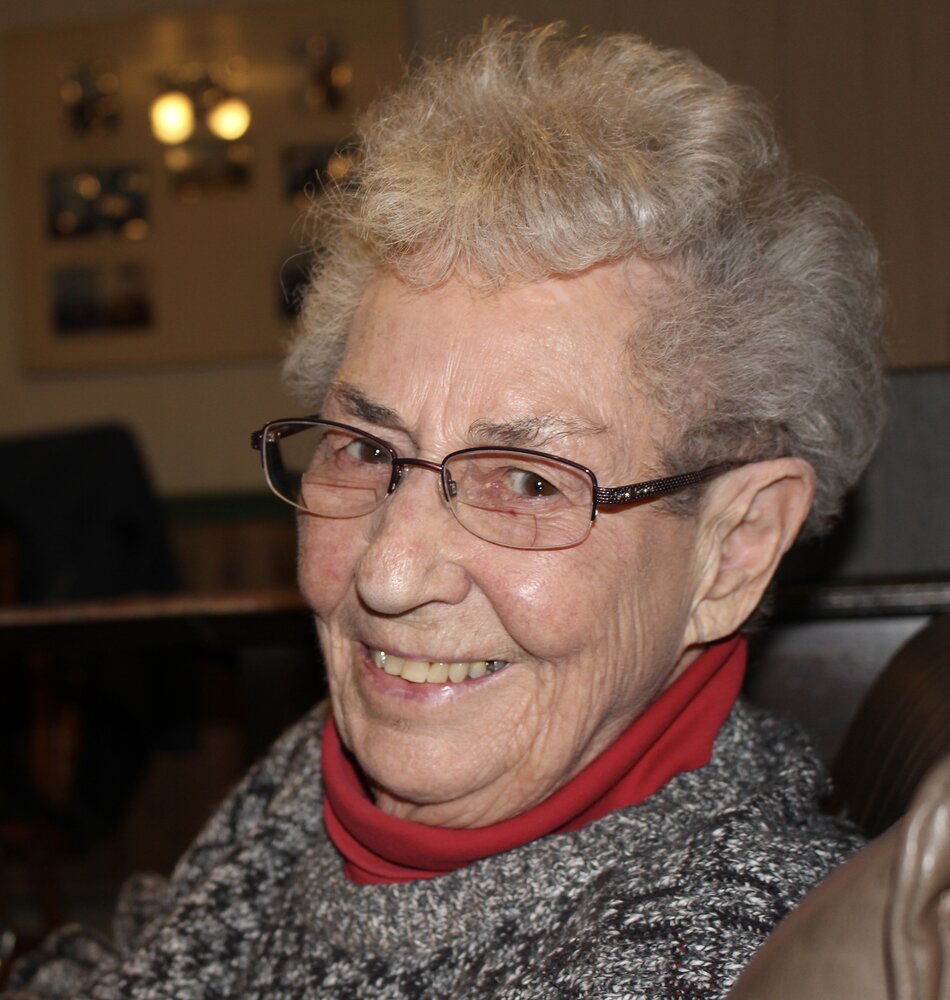 Share Your Memory of
Dawn


Obituary of Dawn Schutta
Dawn Jean (Keeling) Schutta died peacefully at the Grenadier Retirement Residence in Toronto on December 7, 2021 at the age of 93. Until the Covid-19 pandemic limited or prevented her from engaging in the community, Dawn was active and determined to make the most of every day. Hers was a long life well lived.
She is predeceased by her husband Alfred, as well as siblings Ralph, Jack, Shirley and Victor. She is survived by her daughters Mary-Pat (Marc Leger) and Susan (Bernard Trottier) as well as her beloved grandchildren Danielle Leger (Neil Chambers), Madeleine Leger, Alexandre Trottier and Zoe Trottier.
Born in Winnipeg, Dawn spent her formative years in Manitoba, the youngest of Charles and Shirley Keeling's five children. As a young woman eager to see more of the country, she moved to Edmonton, where she enjoyed curling, golf and theatre in her leisure time. It was while she was working at Celanese Canada that she met her future husband Alfred and they married in 1961. She was a caring and attentive mother to Mary-Pat and Susan, instilling a love of learning and the importance of community. Dawn's warm, caring nature allowed her to make friends wherever she went. She was a life-long "cat person", lover of nature in general, and a regular donor to animal charities.
Post secondary education hadn't been an option for Dawn after high school but she had always wanted to go to university. Once her girls were old enough to manage on their own after school, she enrolled at the University of Alberta and three years later graduated with a degree in Education. As a kindergarten teacher she was fiercely committed to giving her students the best possible start in the school system. She also wrote a weekly column about education for the Edmonton Journal for a number of years.
Dawn enjoyed traveling and visited every province and two of the territories in Canada, most countries in Europe and also traveled to Asia. In her retirement, she and Alfred would tour Canada, and regularly travel to New Brunswick to visit Mary-Pat and family. Dawn took her last international trip in her 80s to visit friends in Prague and connect with Mary-Pat's family, vacationing there.
Dawn's Anglican faith was an important anchor throughout her life. She formed many of her closest relationships with people she met through the church. When she decided to move to Toronto after her retirement, Dawn began to attend church at St. James Humber Bay, which later became Christchurch St. James. She became an active member, singing in the choir and serving as a warden as well as a regular volunteer at the food bank. In Christchurch St. James Dawn found a caring community of people committed to helping others, and she was grateful for the many friendships she developed among the congregation.
Dawn spent her final years at the Grenadier Retirement Residence, where she found another welcoming and caring community. During the early waves of Covid, before vaccines were available, the staff at the Grenadier went out of their way to keep Dawn's spirits up, even as they were coping with lock-down conditions. Dawn's family is grateful to the staff at the Grenadier for all the genuine warmth and support she received.
In memory of Dawn, please consider making a donation to the charity of your choice or to the Food Bank at Christ Church St. James as outlined here: Support Us - Christ Church St. James (christchurchstjames.ca)
We will share plans for a service to celebrate Dawn's life at a later date.