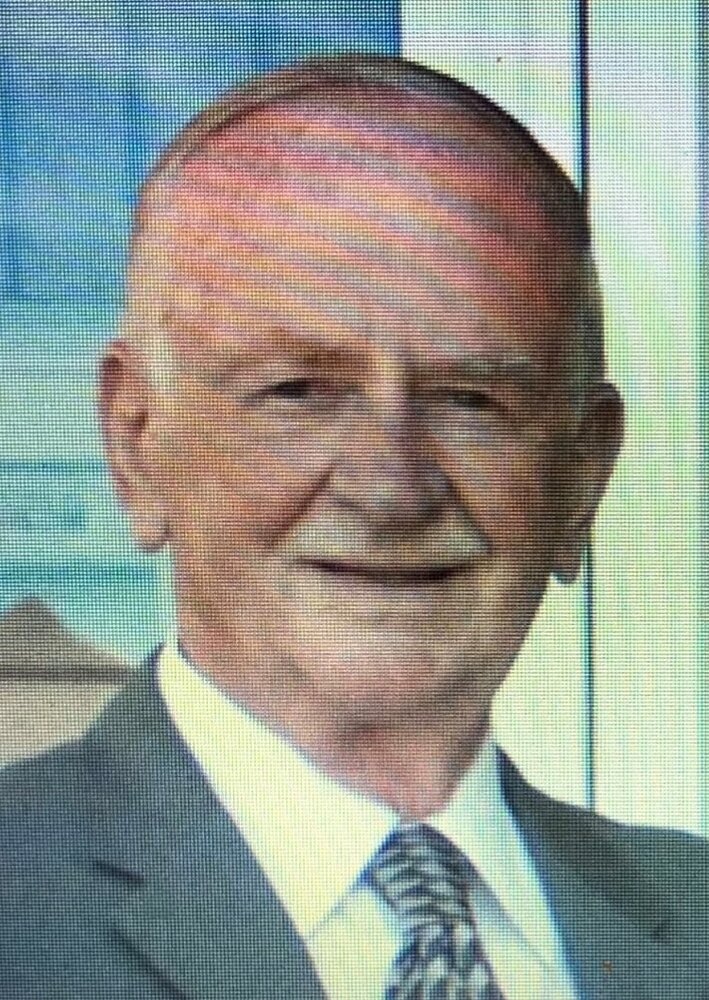 Share Your Memory of
Mervyn


Obituary of Mervyn Gerald Jenkins
It is with a very heavy heart that we announce Mervyn Gerald Jenkins, 89, of Richmond Hill Ontario passed away peacefully at home surrounded by his wife Elizabeth, daughter Tanya and his dedicated caregiver Beverly on December 11, 2021.
He was born to Phillip and Gladys Jenkins on February 11, 1932, in Abingdon England. He was the second eldest of a total of six brothers and sisters. After serving in the British army, Mervyn married his childhood sweetheart Elizabeth on March 26th of 1955, and shortly thereafter they pursued their dream to emigrate to Canada. For the past 66 1/2 years they have happily called Canada their home, living initially in Montreal Quebec for 25 years, then a brief year in Vancouver British Columbia, and finally settling in the Greater Toronto Area in Ontario.
Mervyn was always happiest working on engines - it didn't matter if it was cars, trucks, motorcycles, airplanes, race cars, boats, or military tanks. Working with his hands and tinkering on his cars or home improvement projects at the house or cottage made him happy. He was a gentle, quiet, soft-spoken man, who would do anything to help his neighbours and closest friends. Mervyn loved being outside in nature and with animals. He could always be found with one of the many family dogs they had over the years walking with him at his hip happily off on their next adventure.
Mervyn is survived by his loving wife and best friend Elizabeth, and his deeply devoted cherished daughter Tanya. Mervyn is also survived by his beloved niece Dr. Sarah (Elm) whom he was very proud of for her accomplishment of going back to school to pursue her dream of becoming a doctor, and who has been instrumental in helping offer medical care and advocacy for him despite being an ocean apart. He is further survived by his siblings Irene, Diane (John), Janet (Roy), Peter, and his many nieces and nephews. He is also survived by his great-niece Abigail and great-nephew Noah who loved their great uncle Mervyn like a granddad - he loved them very much.
Mervyn was predeceased by his parents Phillip and Gladys, his older brother Phillip and his wife Pat, and his dearest lifelong friend Albert Poidinger.
The family would like to thank all of those caregivers in the community who have lovingly cared for Mervyn these past 14 years in his long battle with Alzheimer's. He fought long and hard, and his caregivers fought with him each step of the way until his body became too tired. Special thanks, gratitude and love goes out to Bevy (Michael) and Beverly his longtime caregivers who loved and cared for him deeply, fiercely, protectively, unconditionally, lovingly and who will forever remain our family. The words "thank you", are not strong enough! As well, the family would like to notably thank Azam and Amanda his nurses who supported him with weekly visits over the years, to Sarah, to Ina, to Panny, to Narges, to Marianne, to the pharmacist team at Health centre Pharmacy in Concord, and to Dr Steven Grossman his family palliative physician. Without all of your support, care and love this journey would have been much harder for him and for our family. Tanya would always tell everyone that the goal was to keep him comfortable and respectfully at home - and that while Mervyn fought we would all fight with him. Thank you for helping us to fight with and for him, and for helping us keep him at home, which is where he loved being, surrounded by his things, his people and dogs!
Many of those who loved Mervyn took it upon themselves, spontaneously, to visit him (or call / video call) in his final days. For that we thank you all, as it deeply touched the family and we know Mervyn felt the love. For those that could not be with him in person, we know you were definitely with him in support and love and we all felt it. Thank you!
It was Mervyn's wish, and further, due to the pandemic, there will not be a memorial or farewell gathering at this time. A tree will be planted in his memory next year at the family cottage, his favourite place (only after of course being wherever Elizabeth and Tanya were). Immediate family and close friends will be invited.
The family requests that in lieu of flowers donations be made in his memory to Providence Healthcare's Adult Day Program, where Mervyn attended a personalized Alzheimers program for several years.
Providence Healthcare's donation site link:
https://stmichaelsfoundation.com/donate