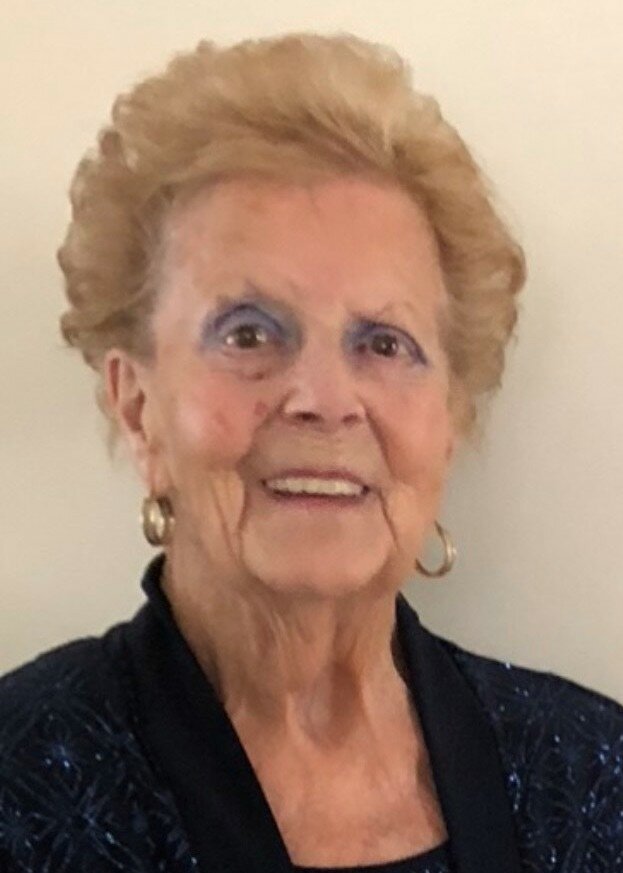 Share Your Memory of
Elizabeth


Obituary of Elizabeth Jenkins
It is with a shattered heart that I announce the passing of my beloved beautiful mother, Elizabeth Jenkins (nee Millman). She passed away at home in Richmond Hill Ontario on Sunday, May 1, 2022 surrounded in love by her daughter Tanya, her caregiver Bevy (with husband Michael) and one of her nurses, Marianne.
She was born to Joseph and Ivy Millman on November 27, 1933 in Rock England. She was the second eldest of a total of five sisters and one brother (deceased). Elizabeth married her childhood sweetheart, Mervyn Jenkins, after he served in the British army. They married on March 26th of 1955, and shortly thereafter they pursued their dream to emigrate to Canada. They took the long cruise ship across the ocean to land in Canada, a story that brought much joy and the repeated story of how awful the seas were, such that we would never get her on a cruise ship ever again because of how rough the seas were and how nauseous she was on the travel over. But she did love telling that story repeatedly, as it brought them to their home of Canada. They were happily married and lived in Canada for 66 3/4 years before Mervyn was called home on December 11th, 2021. When they first landed in Canada they initially lived in Montreal Quebec for 25 years, where their daughter Tanya Elizabeth was born. They also lived for a brief year in Vancouver British Columbia, before finally settling in the Greater Toronto Area in Ontario for the remainder of their years together.
Throughout her life Elizabeth overcame so many serious health challenges due to very severe osteoporosis which caused many fractures, followed in her later years with heart disease, lung disease (COPD), and kidney disease. But, it is not her health challenges that defined her. Rather, it was that she overcame them with resilience and determination and perseverance and love for her husband Mervyn and her daughter Tanya. Anyone who knew Elizabeth knew that what she loved most were people and working. She worked until the age of 85 and had her body not begun to fail her, and if not for Covid, she would certainly have continued to work right up until her last day. It was her drive for hard work, and the interaction with people that left many in awe at her stamina and get-up-and-go. For me, her daughter, she was my best friend and my hero! I know that every time she got sick, her determination and stubbornness would kick in because she was not going to leave my father or I. I knew when she was getting cantankerous that she was on the mend. Her '9 lives' were remarkably more like 18 and for that she, and we, were most grateful.
Elizabeth loved to be out and about. Whether that was a walk, a ride in the car, a trip to the grocery store, a shopping trip with Tanya, the drive to the cottage, or a trip away on vacation. She always wanted to be out seeing people and what life had to offer. Sitting idle was torture and boring for her.
Elizabeth loved to read. She would read books mostly romance from start to finish in a day. And when she got her iPhone(s) in her 70s and 80s, well she continued to read on her phone. Which always made the younger generation smile in awe to see that she was using the latest technology.
Elizabeth loved a good debate. Although, even when she may be wrong, she was going to be tenacious and incredibly stubborn to ensure she won the argument or at least wore her opponent down into submission. Both Mervyn and Elizabeth had the infamous 'Jenkins temper'. But it was usually Mervyn who would give in and walk away until the next debate, as he secretly loved Elizabeth's fire and determination.
Elizabeth loved all of the family dogs over the years. And somehow they all knew she would be the one to nurture them and give them extra treats and food. They would all lie in total devotion at her feet for hours and would carefully make sure she was ok walking beside her, just in case.
Elizabeth had always said she would live to be 100. She often said "I was born too soon", as she felt there were so many new things to see and do that she had missed out on being born in her generation. So she was determined to stay and experience it all. Unfortunately, her body had other thoughts on the matter and it failed her. Perhaps though, when her beloved husband Mervyn was called home, that finalized her body and her minds ability to continue to fight. For when he died she told him "you had better save me a seat, I will see you soon". We know he anxiously has a seat waiting for her.
Elizabeth is predeceased by her beloved husband Mervyn Gerald Jenkins, her parents Joseph and Ivy Millman, her in-laws Philip and Gladys Jenkins, and her dearest lifelong friend Albert Poidinger.
Elizabeth is survived by her only daughter Tanya Elizabeth Jenkins who was with her by her side throughout. Elizabeth is also survived by the family dog, Jake, who always had to lie on her feet and give her kisses. Elizabeth is also survived by her beloved niece Sarah (Elm) whom she often referred to as her other daughter, the doctor. She was extremely proud of her accomplishment of pursuing her dream of becoming a doctor. She always appreciated that she was instrumental in helping offer medical care and advocacy for both her and her uncle, despite being an ocean away, not to mention the several times she came to Canada with no notice to help advocate in a medical crisis. She is further survived by many nieces and nephews and brothers and sisters-in-law. She is also survived by her great niece Abigail and great nephew Noah who loved their great Aunty Elizabeth like a grandmother - she adored seeing them in person and on video calls and truly loved them very much. No question, she held on to see them during their last visit a few weeks ago, over Easter. She was so happy they had visited.
We would like to thank all of those caregivers in the community who have lovingly supported and cared for Elizabeth and her husband. Special thanks, gratitude and love goes out to Bevy (Michael) and Beverly the longtime caregivers who loved and cared for both Elizabeth and Mervyn deeply, fiercely, protectively, unconditionally, lovingly and who will forever remain family. They are both devastated to have lost them both so soon together - this was not the plan! The words "thank you", are not strong enough to acknowledge them! As well, we would like to notably thank Azam her nurse, Marianne her INR nurse, Panny, to the pharmacist team at Healthcentre Pharmacy in Concord, and to Dr Steven Grossman her family physician. Without all of your support, care and love this last chapter of her journey would have been much harder.
Thank you to those who came to visit her in the last few weeks/days, and to those who called or emailed to check in. Your love of Elizabeth is endless. Your offers of comfort and support for her daughter are appreciated very much, as let's be honest, this is quite unfair. The word devastating is not strong enough to describe having lost them both in such short order.
It was Elizabeth's wishes, there will not be a formal memorial or farewell gathering. She always said that she wanted flowers and visits while she was alive. A tree will be planted in her memory at the family cottage. Immediate family and close friends will be invited.
The family requests that in lieu of flowers donations be made in her memory to the Heart and Stroke Foundation (www.heartandstroke.ca) or The Lung Association (www.lung.ca).