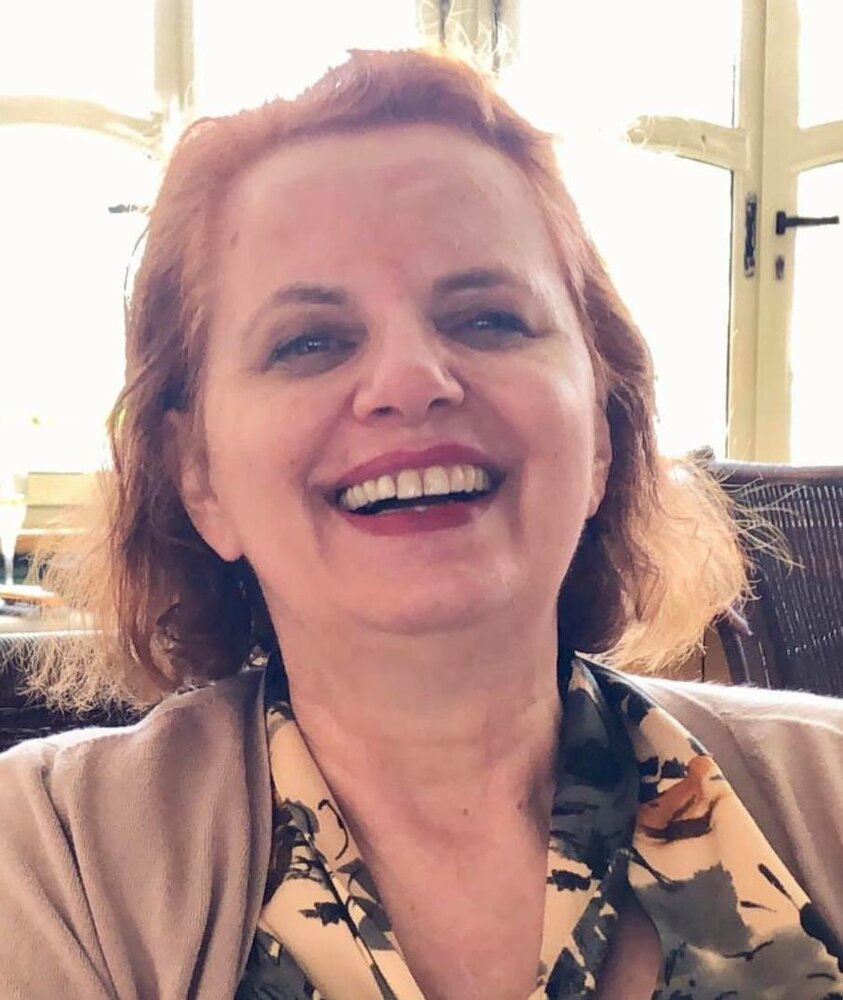 Share Your Memory of
Gisela


Obituary of Gisela Taylor
Gisela Tomppert Taylor was a beautiful, funny, kind, and vibrant person who cared very much for others.
The youngest of three sisters, she was born in the picturesque town of Schwäbisch Hall, Germany in 1955. Growing up, she rode horses, skied, and often traveled around Europe. Her whole life she loved animals, reading, and visiting museums.
Gisela studied at the University of Hohenheim in Stuttgart, moving to Toronto in 1982 to finish writing her Masters thesis. While meant to be a temporary stay, it turned into a permanent one when she met and fell in love with Clinton "Butch" Taylor at the Food & Wine Show. They married in June 1984, and their daughter and only child Sophie was born in July 1985.
After a few years in Toronto, the Taylors lived in New York, Minnesota, and – their longest stay – Monterey, California. Their years in Monterey were Gisela's favorite; she loved the ocean and marine wildlife, and they often visited the Monterey Bay Aquarium. Gisela and Butch often drove the 2 hours up the coast to San Francisco to go to the opera or a museum, and flew to Las Vegas to visit the Red Rock Canyon. Gisela and Sophie had annual mother/daughter trips that they cherished, to Germany once or twice a year for most of Sophie's life, and then to Cayo Coco, Cuba in the years before the pandemic. Their last trip together was to the Riviera Maya in Mexico in April 2022.
Philanthropy was very important to Gisela. She sponsored two girls through World Vision; often sent care packages to a friend in Cuba with medicine, toiletries, and baby supplies that are hard or impossible to get there; donated to Sheldrick Wildlife Trust, among other organizations (she absolutely loved elephants and got so much joy from following Sheldrick); and volunteered (often with Butch) with organizations like the Salvation Army.
Sophie moved back to Toronto in 2009, and Gisela and Butch followed in 2014 to be near her. They adopted their beloved cat, Molly, in 2016 (Molly has now become a sibling of Sophie's cats, Nora and Toulouse). Butch passed away from kidney disease and cancer in May 2020, and Gisela had just adjusted to the loss and been excited for the new chapter of her life when she started feeling very sick in October 2021. By the end of January 2022 she was diagnosed with an extremely rare cancer, cholangiocarcinoma (bile duct cancer), which is usually terminal by the time it's discovered, and it had already spread to her lung, lymph nodes, and formed a large, inoperable liver tumor. Sophie moved in to be Gisela's caregiver, going to all of her checkup and chemo appointments at Princess Margaret Cancer Center (a top-10 cancer hospital worldwide), making all her meals, and being her advocate. When Gisela went into palliative care at the end of September (at Princess Margaret and then Bridgepoint hospital), Sophie was there all day, every day. She was holding Gisela's hand when she took her last breath.
Gisela is survived by her daughter, Sophie Taylor, sisters Helgard Tomppert and Brigitte Judt, brother-in-law Klaus Judt, her nieces Anna Kroß and Birga Judt and their families, and her goddaughter Dorothee Bühler. Her warmth, beautiful laugh, and sharp wit and sarcasm are deeply missed.
A special thank you to everyone who supported Gisela and Sophie these past years, and all those people who continue to be there for Sophie after the loss of her parents. Your love and friendship are very much appreciated. Thank you also to everyone at Princess Margaret and Bridgepoint, and to Vicky, Dr. Choi, and Dr. Pell at St. Clair Medical.