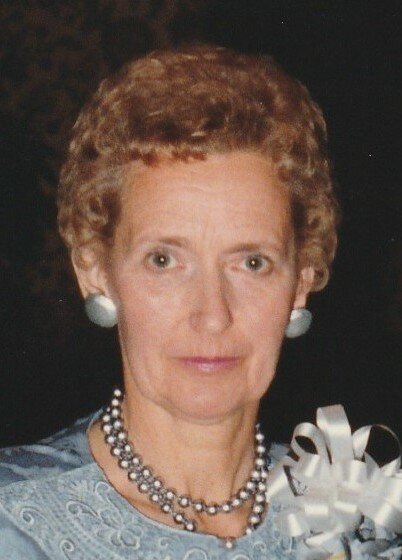 Share Your Memory of
Erika


Obituary of Erika Pegg
It is with a heavy heart that I inform you of the passing of my closest friend and cherished wife for nearly 64 years. Erika Pegg. She passed away at five minutes to midnight on Monday March 6th, at Mississauga Hospital.
She is survived by her immediate family of husband Ron and children Ron and Elizabeth (Phil). Erika also has a brother Karl (Margaret) and a sister Karen and has a deceased sister Marianne.
Erika was born in 1931 in Toronto to Karl and Margaret Kopp, attended Runnymede Collegiate, Toronto Teacher's College and became a highly successful and dedicated teacher. While teaching in the borough of York (Toronto) she attended Ministry of Summer classes and obtained a Specialists Certificate in Special Education and attended University of Toronto night classes in the winter. She became a speech correction teacher for a group of assigned schools and helped children with speech problems in those schools. She met Ron at one of her schools and would have been celebrating 64 years of marriage to him this summer.
Shortly after marriage we purchased a new house in Applewood Heights and Erika resigned teaching to raise a family. We had two children, Ron and Elizabeth (Phil). Elizabeth graduated from York University and worked in Mississauga. Ron has his PhD in food science and is a Professor at the University of Georgia in USA.
When the children were in senior school Erika returned to teaching first part-time, and later fulltime. She taught Special Reading classes in Peel until we retired in 1987.
ln early retirement we spent considerable time in Muskoka and were active in snowmobiling, downhill skiing and cross-country skiing. ln 1988 we purchased a house in Riverwood Plantation a senior retirement community in the Fort Myers area of Florida. After a few years of winter activities Erika said we should go to Florida all winter which we did for 35 years.
ln Florida Erika started playing tennis and became skillfulenough to play on one of the Riverwoods Tennis teams in a league. She also over the years played tennis in Riverwoods Olympics' and won several medals. Around the year 2000 we decided to investigate other places to live in Ontario, eventually sold our house in Applewood Heights to Elizabeth and Philand bought a lot in Bayshore Village just outside Orillia. Erika took great pride and joy in helping and designing and decorating a new house we had built. Erika participated in activities in Bayshore and we made several good friends.
Erika will be remembered for her engaging personality, her love and devotion to family, her loyalty to friends, her hospitality, her well kept homes, and her love of life. She enjoyed a great variety of activities in her life including sports, reading, cottaging, bridge, tennis, travelling and a "dinner and a movie night."
She will be buried at a private service at the Regg Family Plot in Newmarket Cemetery.
Erika was a special person. We have arranged a Celebration of Life for her at the Top of the Mark room at Applewood Landmark Condominium.Friends and acquaintances are invited to join her family there May 17th, 2023 between 1 and 3 pm.
ln lieu of flowers a donation to the Canadian Alzheimer Society in Erika's name would be greatly appreciated.
Celebration Of Life
1:00 pm - 3:00 pm
Wednesday, May 17, 2023
Applewood Landmark Condominium
1300 Bloor Street
MIssissauga, Ontario, Canada

Get Directions