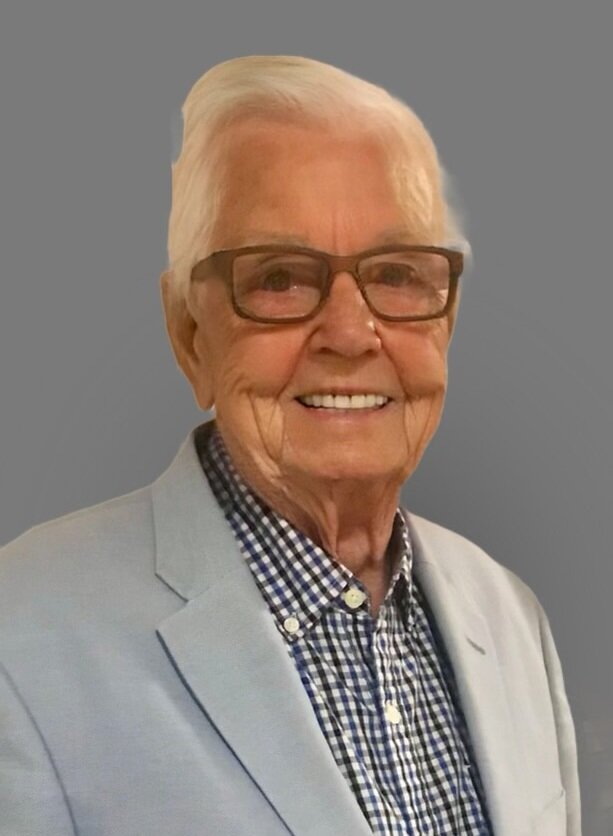 Share Your Memory of
John


Obituary of John Anthony Parzych
John Anthony Parzych of Toronto, Ontario passed away peacefully on May 21, 2023 at the age of 92 after a long battle with Alzheimer's and more recently an aggressive form of leukemia. He was a devoted and loving husband to his wife Ruby for 66 years, a dedicated father to Greg, Tracy and Brad (deceased), and a much cherished grandfather to Melissa, Mckenzie, William and Jessie.
John was born on Sept 30, 1930 in Toronto. As a young boy of Polish immigrants growing up in the depression, John displayed his strong work ethic early in many part-time jobs including-synagogue candle lighter, bottle collector and at the age of 12 the manager of a small silk-screen company! After graduating from Central Tech he went on to work at Northern Telecom where he met the love his life Ruby who was working at Bell. They married in 1958 and soon after welcomed their first child, Bradley followed shortly thereafter by Greg and Tracy.
A natural entrepreneur and never one to be 'managed', John launched his first company in 1965 ITR (International Time Recorder) which he grew to become the largest time clock company in Canada with offices across the country. He went on to add additional parking companies including CPE (Canadian Parking Equipment) and APE (American Parking Equipment). While John's first love was always Ruby, he found great joy in growing his businesses where his children worked along-side of him at various times throughout the years. John was a passionate collector of cars and all things curious including log buildings, antique clocks, and even unusual vintage stuffed animals.
A "frustrated architect" at heart John designed and built their country home in Caledon which was made from several heritage log buildings complete with stain glass windows and even communion rails from a church. John loved his family and his grandchildren brought him immense joy and happiness. He was a wonderfully energetic and fun-loving grandfather and the grand kids lined up for a wrestle with "Gagi" even while a win was never guaranteed. John was by reputation strong willed and at times a little too frugal, but he was first and foremost known for his enormous heart, unwavering bravery and loyalty and his generosity toward his family and community.
John loved to travel and was intent on seeing the world. He and Ruby travelled extensively throughout his lifetime to both well-known and remote places leaving almost no corner of the world untouched. He passed on his love of exploration and family time to his children creating a tradition of family vacations each Christmas that have filled the Parzych generations with cherished memories of their beloved 'Gagi'. While passionate about his business, John cherished family above all else. He absolutely adored his wife and always said he didn't need friends because he had Ruby.

John is survived by his wife Ruby (Huxted), his children Tracy Mcleod (Mark Mcleod), Greg Parzych
(Helen Gallagher-Parzych), sister-in-law Ellen Case, his sister Irene Stockwell, brother Henry Parzych and
grandchildren Mckenzie Holden, William Mcleod, Jessie Mcleod and Melissa Parzych. He is also survived
by many nieces and nephews. While John was adamant that there be no funeral, he was surrounded by
his family during his last hours on this earth. The family will celebrate John together during a return trip to Nicaragua this Christmas. Nicaragua was a special spot where John enjoyed one of his final trips abroad 'unaided' by care and still functioning independently. Sadly, in his later years John developed Alzheimer's and spent the past year at Parkland Retirement Home where he was well cared for by his main PSW Jovita Livey as well as Prezy, Flor and Deena. Many thanks to these attentive women for their tireless and respectful care. While suffering with the disease, John carried himself with dignity and was always a gentleman. During the past two years, he delighted in watching wildlife shows, one of which was Hope for Wildlife.
Hope for Wildlife is a charitable wildlife rehabilitation and education facility located in Seaforth Nova Scotia -rescuing, rehabilitating and releasing over 250 species of Canadian wildlife since 1997. After studying veterinary technology Mark and Tracy's daughter, Jessie completed Hope's wildlife internship and was eventually given the opportunity to open a satellite clinic on the South Shore.
Jessie and her partner Ben built the 24/7 wildlife drop-off center for people to bring injured or orphaned wildlife for immediate medical treatment and care. Hope for Wildlife has grown immensely over the years with the support of the public and is internationally recognized as part of the ever evolving wildlife community.
In lieu of flowers, the family requests donations to be made to: The Hope for Wildlife Foundation at The Hope for WildLife Foundation


Please share your memories and condolences with us.