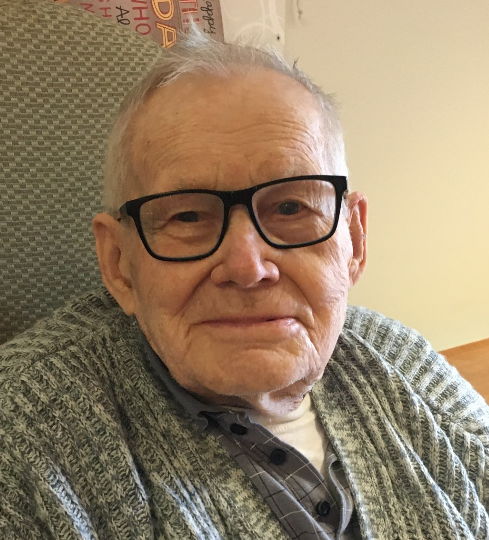 Share Your Memory of
Arvids


Obituary of Arvids Treijs
In loving memory of Arvids Treijs, who passed away peacefully in his 101st year on September 28, 2023. Lovingly remembered by his children Ed, Arnold (Judy), Ingrida (Murray), Erik (Ana) and grandchildren Joshua, Samantha, Jessica and Alexander. Predeceased by his wife Ruta Viskers, whom he married in 1956, and who passed away in 2014.
Fondly remembered by extended family and friends who knew him over the years. He is to be cremated in a private ceremony according to his last wishes. A special thank you to Evelyn, as well as all the staff at Kipling Acres, who cared for him in his last years of life.
In lieu of flowers, should you wish, you can place a donation in his name to the Canadian Cancer Society at this link
or to the LANK
Latvian National Federation in Canada
A little about Arvids:
Arvids was born in rural Latvia in 1923. Orphaned by age 4, he and his brother fell under the guardianship of extended family. Despite early years full of hardship, he was determined to make his life his own, and left home at 15 to earn a living as a bricklayer's apprentice. In a time when getting an education was too expensive for most (his guardian couldn't pay for his education) and showing an interest in things mechanical, he was determined to put himself through technical school, thus showing the dogged determination, persistence, initiative and nose-to-the-grindstone approach (along with a good measure of stubbornness) that underpinned his approach to life.
While still a teenager, his life ambitions were interrupted, and he was caught up in the turmoil of WWII. Like most who lived through those horrors he hardly spoke about that time. He once shared - "there were so many things in war that didn't make sense. If you tried to make sense of them you would go crazy - as some did and just lay down and died in the cold of winter. Ultimately it came down to one choice– either you had the will to live and continue on or not." Eventually, he made his way from Latvia to the European refugee camps, and, in time, was sponsored to come to Canada in 1949.
In an unfamiliar country without any English, he demonstrated the same approach to life as he had growing up. There was no problem that couldn't be solved with hard work and dogged determination. He travelled across the country following whatever work was available, working variously at Exshaw concrete plant in Canmore, Alberta, as a farm hand in the prairies and Alberta, going up north to the Yukon to mine and log (not having much money he bartered passage onto the sternwheeler in exchange for hard labour by shovelling coal into the boiler). He eventually earned enough to put himself through school earning his degree as an electrical engineer at the University of Toronto. He followed that with a 30 year career at Ontario Hydro.
He married his wife Ruta in 1956, and they made their home in first Toronto, and then on a hobby farm in Brampton, Ontario. Together they raised four children. Ruta was also a refugee from Latvia, and maintaining Latvian culture was important to both of them. The family spoke Lavian at home and all of the kids attended Latvian heritage school to learn how to read and write Latvian, as well as traditional Latvian culture (folk singing and dances). Toronto was home to many "Trimdas Latviesi" (Latvians-in-exile), and Arvids and Ruta would attend many functions at the Latvian Centre in Toronto.
Arvids was a jack-of-all trades. When he wasn't at work, you would mostly find him on the farm working on endless tasks as electrician, carpenter, plumber, car mechanic, farm equipment mechanic, mason, farmer, gardener, etc... If it needed to be done, he would do it. On his own, while in his 70's, he rigged up a hoist in the barn so he could replace the motor in his Ford Bronco. He grew and maintained a garden into his 90's.
Education was of the highest priority to Arvids. He wanted to provide his children the opportunity that he himself didn't have growing up. To this end, he put all of his children through post secondary education. Though as a parent he could be quite severe (in the Eastern European tradition), he was also loving, and providing an opportunity for education was one of the ways he expressed this. If you needed help fixing your car, or do-it-yourself projects, he was there to help however he could.
Arvids had a keen sense of humour. He enjoyed April fool's jokes, and places that he frequented shared that he was a joy to serve due to his efforts at bringing humour into the day. Especially as teenagers, his willingness to laugh at things wasn't always understood by his children. When asked why he was laughing at things, his response in Latvian, "es var nu smiet jeb raudat – taka es labaki smej" which means - "well I can either laugh or cry – given a choice I'd rather laugh." His grandchildren remember his sense of humour and remember him as "quite funny".
Arvids was as tough as they come, both by life's necessity and choice. In his 90's when offered a hand to steady him walking or navigating stairs he would decline with a dismissive wave and say,"never mind; use it or lose it" and proceed to try navigating under his own power.
Determined to the end, the staff at Kipling Acres Retirement home called him a "fighter". That sums up his approach to life in one word.
He will be dearly missed.