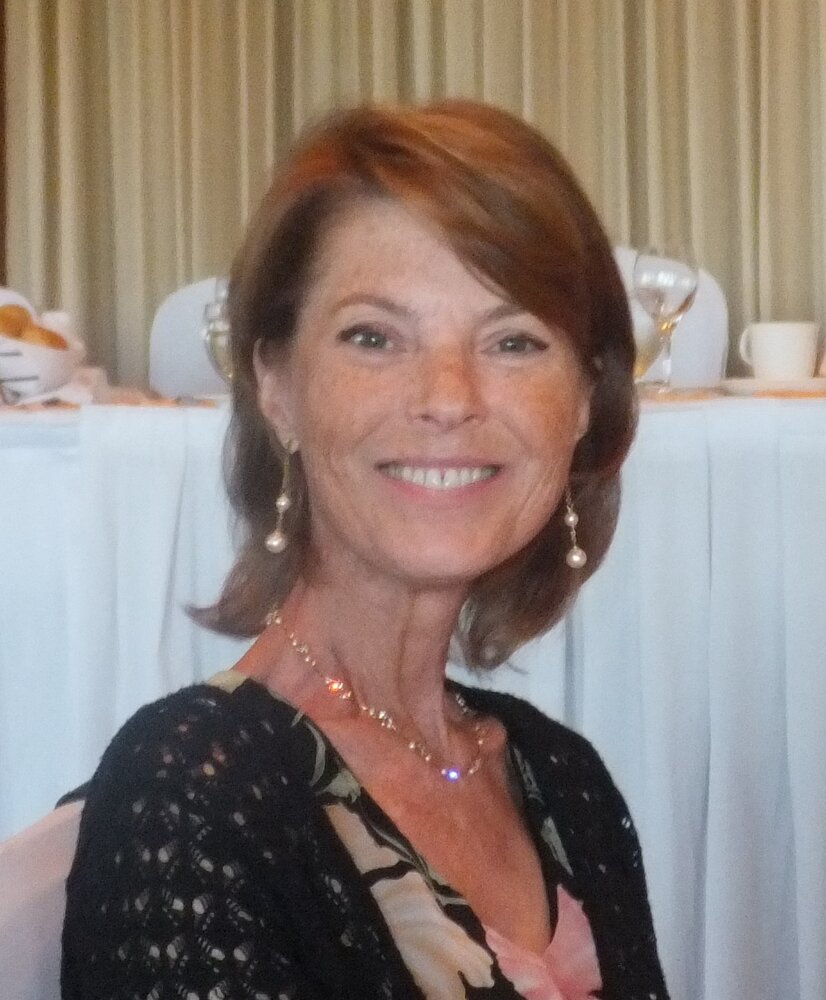 Share Your Memory of
Robyn


Obituary of Robyn Mae Lange

ROBYN MAE LANGE, avid sailor and dancer, wise counsellor, and when required, wrangler of
dogs, cats and people, died on Monday March 28, 2022. Robyn was born on May 1, 1958, to
parents Beverlie (McGimpsey) Lange and Dr. (Hugo) Norman Lange. She grew up in Russell,
Manitoba and was very proud of her 'fightin' Irish' and Germanic heritage. These influences
created a powerful combination of 'righteous warrior' and a gal who liked to sing, swing and
tap her toes to any music that was in earshot. Robyn delighted in telling and hearing good
stories. This story of Robyn at age four hinted at the woman she would become… she literally
tunnelled under the fence her parents had built to keep her safely within the backyard. Once
free, Robyn took herself for milk and cookies to the neighbour next-door and on one occasion
to church, complete with rather dirty gloves and bonnet.
This determination coupled with her compassionate and caring nature were the hallmarks of
what made Robyn, Robyn! She learned service to community early on as she made rounds with
her dad on home visits as part of his busy rural family medicine practice. She successfully
navigated three experiences with cancer between fifteen and twenty-six. This experience
caused Robyn to look reality straight in the eye. She decided to shift her focus of study from
medicine to corrections, becoming the first female director of a halfway house in Canada. From
there she went on to a long and rich career in teaching and counselling at George Brown
College.
Robyn was celebrated for her deep caring of extended family, including friends, fur critters, and
students. She put her all into whatever was happening in the moment… baking cookies with
nieces and nephews, sewing a fabulous dress for dancing made from a no-longer-being-used
curtain panel, drinking Bombay Sapphire G&T's with hard cheezies and peanuts (for protein) at
the cottage, sharing her wisdom with students in crisis, hammering nails on various Habitat for
Humanity builds, and rescuing pets who thrived under her TLC. Robyn had a laugh that brought
joy to our hearts, especially when those freckles and impish eyes came out. No one could make
her laugh harder than her beloved husband Ross Cameron (deceased). Robyn's optimism could
turn almost any problem into a barrier that just hadn't been hurdled yet.
This moment brings us such a mix of emotions... deep sadness at losing Robyn's bright light too
soon, joy that she is now finally at peace, gratitude to have known her and have her beautiful
energy in our lives… We love you Robyn!
Robyn is survived by sisters Shannon and Dawna (Ed Schwartz) and their children Lauren and
Braden. She is survived by the extended Cameron clan of sisters and brother-in-laws, nieces and
nephews. A special shout out to Mark (Sean Mooney) and their son Thomas for bringing such
joy to Robyn over the years and for caring for her when she needed it the most. Robyn is also
survived by an incredible number of close friends, who with two exceptions, cannot be named
for fear of missing somebody. Chris and John you have been there for Robyn through fun times
and times when she needed your strength. We are very grateful for the Cancer Care Team at
Princess Margaret Hospital and the Palliative Care Team at Mount Sinai Hospital.
Robyn's celebration of life will be held in Toronto this summer. (Details to follow. Please contact Cheryl Gorman cagorman@rogers.com or 613-614-1213 for more information.) Robyn had many charities that she supported, too many to list. We ask that you consider making a donation in her name to a charity of your choice, or, that you do a random act of kindness in her honour. As you know, she loved to travel – please raise a glass to Robyn on your next adventure. Cremation arrangements have been entrusted to The Cremation Care Centre. Online condolences may be expressed at Robyn Mae Lange.