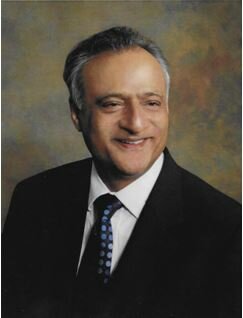 Share Your Memory of
Surender


Obituary of Surender Dhiman
Dr. Surender Pal Dhiman died at age 73 in hospice care in Inglewood, Ontario, Canada, shortly following a diagnosis of pancreatic cancer.
Surender Pal was born in Nairobi, Kenya on October 18th, 1949, the fifth of eight children. His primary and secondary schooling was done in his hometown of Nakuru in the Rift Valley, 160 km west of Nairobi. After suffering a severe burn as a child, Surender was inspired to pursue a future in medicine. He moved to Uganda in 1970 to attend Makerere University. Following the 1972 edict by dictator Idi Amin Dada expelling all Asians from Uganda, Surender was admitted to Canada along with several classmates and graduated from U of Toronto in 1974. Dr. Dhiman spent the early years of his career in Sudbury, Ontario, alongside Clare Macdonald and their four children. The family moved to Joliet, Illinois in 1995, where he opened Community Orthopedics and joined the medical staff at both St. Joseph's Medical Center and Silver Cross Hospital. Dr. Dhiman's final years in practice were spent in northwest Indiana. After retirement, he returned to live near his brothers and cousins in Ontario and made regular trips around the Great Lakes region to visit his four grandchildren.
Dr. Dhiman achieved his Family Medicine Certificate in the Royal College of Physicians of Canada and then a Fellowship in Orthopedics with a focus on total joint replacement through the Royal College of Surgeons of Canada and the University of Ottawa. He was board-certified by the American Board of Orthopaedic Surgery, member of the American Academy of Orthopaedic Surgeons, and held the distinction of Fellow, American College of Surgeons (FACS).
Watching his father and maternal grandfather work in a photography studio in Nairobi fostered a lifelong enthusiasm for photography and cameras. Surender spent countless rolls of film and filled memory cards documenting the ephemeral, the memorable, and the mundane. Surender was proud to earn his pilot's license and always dreamed of owning a personal aircraft. Over the past 5 decades he traveled across five continents and saw much of the United States and Canada. He enjoyed joining colleagues at annual AAOS conferences in New Orleans and regularly participated in Self Realization Fellowship retreats in Los Angeles.
Preceded in death by parents Lahori Ram and VedKaur (Sembi) Dhiman, mentors Dr. Frank Macdonald and Dr. Doreen (Mathers) Macdonald Zaharuk, sister Pushpa, and brothers Kuldip and Pardeep. Survived by his children: Randeep Dhiman (Adam Kollin), Kiran (Kristoffer) Szekeres, Ravinder Dhiman, Tara Dhiman. Grandpa to Daphne and Wilder Kollin, Sawyer and Sloane Szekeres. "Chichi" to five surviving siblings and many loved cousins, nieces and nephews.
Condolences or gifts in Surender's honor may be sent to Bethell Hospice Foundation, 15835 McLaughlin Rd. , Inglewood , Ontario , Canada L7C 1H4 .