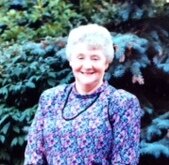 Obituary of May Du Maresq
On November 11, 2022, May Du Maresq (née Munden) of Etobicoke passed away at
the age of 94. May was predeceased by her husband, Ray H. Du Maresq (d. 1986).
Mum to Gordon (Diane), Diane (Tim), David, Bruce (Madlen), Michael and Michele.
Granny and Grandma to Michael, Melissa, Danielle, Griffen, Bradley and Brian. Great
Grandma to Nolan, Dawson, Nora and Lucy-Mae.
May loved her visits to the UK, reconnecting with her roots and extended family and
then sharing Cadbury chocolate when she returned home. She spent many hours
quietly enjoying a cup of tea, looking out her front window. Above all, May cherished
her family and friends and the times they spent together over so many years of a good,
fortunate life.
The family extends their sincere thanks to the caring, hard working staff at St. Joseph's
Health Care Centre for their service and compassion to May.
The family will host a celebration of life gathering for May at a future date.
In honour of May, the family invites people to donate to a charity of your choice that
serve children in need or animal/pet welfare or a Canadian deaf charity.